Echinocereus knippelianus subsp. kruegeri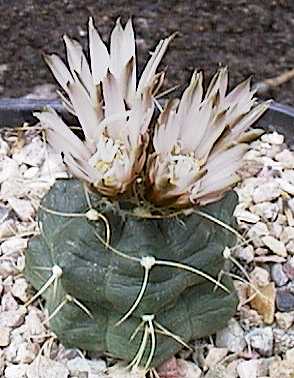 Echinocereus knippelianus subsp. kruegeri
Date: 1999 April 6
Echinocereus knippelianus and its subspecies are discussed in an article by Peter Berresford and Paul Hoxey in the British Cactus & Succulent Journal, March 1999. Subspecies kruegeri is distinguished from the type subsp. knippelianus by flowering from the apex rather than from lower down on the stem, and having paler stigma lobes.
This plant in my collection was grown from seed (though not by me) with Steven Brack's number SB939.
Here are some pictures of the same species which I photographed in Mexico in 1998.

---
[ Clarke Brunt's Home Page | Clarke Brunt's Cactus & Succulent Page | Cacti and Succulents in flower ]
---
Author: Clarke Brunt (clarke.brunt@viridis.net) Last modified: 6th April 1999