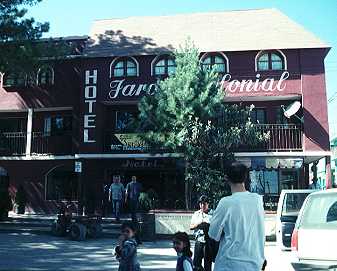 Galeana, Nuevo Leon
Date: 1998 March 14

At last we have left behind the busy city of Monterrey, and after seeing some nice Echinocereus on the way, we arrive in Galeana.

The Hotel Jardin Colonial provides comfortable accomodation, and after checking in, we spend the rest of the afternoon looking for plants in the surrounding area.

As with all the other fairly small places we stayed in, once you find the Plaza (square), you can rely on there being somewhere to stay, some places to eat, and of course the Church.