Setiechinopsis mirabilis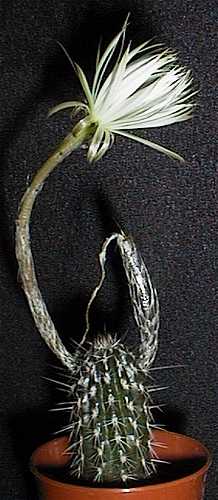 Setiechinopsis mirabilis
Date: 1999 August 10
This tiny plant seems much underrated in cultivation, perhaps because it is unlikely ever to win prizes at shows - something which means nothing to me! It is more related to the Cereus group of plants than to Echinopsis which its name appears to relate it to.
It grows trivially easily from its freely produced seed, and this plant is only a year or two old. It is in a 5cm pot, and the plant body is only 5cm tall. I once remember a plant reaching some 15cm tall, but this seems rare. The plants seem to die long before this, and are best replaced with fresh seed-raised ones.
The flowers are nocturnal, lasting for only one night, but a number are produced in succession. They have a slightly strange but not unpleasant scent, which reminds me of a well-known brand of antiseptic ointment!

---
[ Clarke Brunt's Home Page | Clarke Brunt's Cactus & Succulent Page | Cacti and Succulents in flower ]
---
Author: Clarke Brunt (clarke.brunt@viridis.net) Last modified: 10th August 1999